Since 1983
Welcome to Future Generations Forestry.
FGF is concerned with the proper management of our dwindling forest land. FGF provides services which balance the needs of tree farm owners, the requirements of their tree farm plans and the demand for tree farm products.
A tree farm is a consciously managed forest, which is maintained, harvested and planted so as to protect and preserve the environment while producing a sustainable supply of firewood and timber for the future.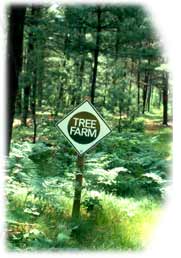 Future Generations Forestry offers the following services:
Nature trail development, road and trail maintenance
Precommercial thinning and releasing of trees in forest stands.
Commercial harvesting of firewood and sawlogs
Wildlife ponds and habitat improvements
Natural structures such as arbors and bridges
Wood and steel gates for security
Brush cutting
Tractor work: york raking, bush hogging, farm winching and bucket work
Tree and shrub planting, landscaping
We are located at the New England Forestry Foundations, 96 acre Mary A Herrick Memorial Forest, Boxford MA.
We can implement your tree farm plan, develop trails and bridges for recreation activities, or help you with your farm and landscape projects. Check our Services to see how we can help you meet your goals and objectives on your property. For more information, you may wish to view some of our completed Projects or Contact us.
FGF was founded in 1983 by Tom LaPointe.
---
Now also located in:
Future Generations Forestry
Herrick Road
Boxford, MA 01921

Future Generations Forestry
212 Back Belmont Road
Belfast, Maine 04915

1-978-835-1583
Email: mailto:fgforestry@gmail.com